From Blind Date To Dating, This Love Story Has Much To Unfold!
The Beautiful royal wedding has finally happened! Where Prince Harry got married to Meghan Markle at St. George's Chapel in Windsor Castle on Saturday. and in honor of their nuptials, let's look back to how their love story actually began.
How It All Began?
[boombox_gif_video mp4="https://buzzhawker.com/wp-content/uploads/2018/05/5b027abf085ed_harry_meghan.mp4″ gif="https://buzzhawker.com/wp-content/uploads/2018/05/harry_meghan.gif" jpg="https://buzzhawker.com/wp-content/uploads/2018/05/5b027abf085ed_harry_meghan.jpg"]Source
Harry and Meghan saw each other for the very first time when they were on a blind date in early 2016 in July. She didn't keep any pre-conceived notions about who he was before they met? And decided to meet him on a blind date. It all started with a blind date set up by a friend.
On seeing Meghan, Harry Thought-
"I was beautifully surprised when I walked into that room and saw her. I was like, I'm really going to have to up my game here."
This statement is something every girl would love hearing and adore the person saying it for being so nice to them..!!

Source
Despite Prince Harry's global fame, Meghan didn't have a lot of preconceived notions about who he was before they met?
Do You Know What Meghan Asked Their Mutual Friend Before Meeting Harry?
Meghan asked her friend only one question before meeting him -"Well is he nice?" as she didn't know much about him? Cause if he wasn't kind, it just didn't seem like it would make sense. On meeting him Meghan was convinced that he is a nice guy. So he decided to ask her out? He somehow convinced Meghan to join him in Botswana for a vacation after just for two days.

Source
Spending time with each other for some time they could sense something building up between them. below the stars, they shared a great time together that made them crave for each other even more.

Source
The world got the whiff of their romance in 2016, October. When the Sunday Express revealed that the Royal Prince and Suits Actor are dating each other. Soon one more source spills about Harry being happier than he's been before with his new lady love Meghan.
Meghan's Words At BBC Interview–
"Because I'm from the States, you don't grow up with the same understanding of the royal family," that she said in BBC interview.

Harry Words At BBC Interview –
"They were actually introduced by a mutual friend". And he further announced their engagement at the time of interview itself.

Source
Although the couple kept things private and didn't announce publically about them being together. Some call Harry the red-haired royal Romeo or the world's most eligible bachelor. He has fallen for a girl called as Meghan Markle, who is elder than him and is popular for being an actor in the serial suit. The insider's speculation tagged Harry as "besotted" for Meghan.

Source
While, speculations took over Meghan when she told The Vancouver Sun that, My cup runneth over and I'm the luckiest girl in the world. With the increasing speculations, the couple Meghan finally confirmed in November 2016 that she is dating Prince Harry. Then it finally went out in open! The Paparazzi went crazy and photographed of the couple holding hands, breathing together went viral on the internet.

Source
In 2016, December US weekly reported saying- Queen Elizabeth was delighted to see Harry embrace a loving relationship with Meghan. Soon in Feb 2017, they decided to move in together in a small apartment in Kensington Palace, which is also William and Kate's home.

Source
According to a Vanity Fair report,
Meghan said-
We're a couple. We're in love. I'm sure there will be a time when we will have to come forward and present ourselves and have stories to tell, but I hope what people will understand is that this is our time. This is for us. It's part of what makes it so special, that it's just ours. But we're happy.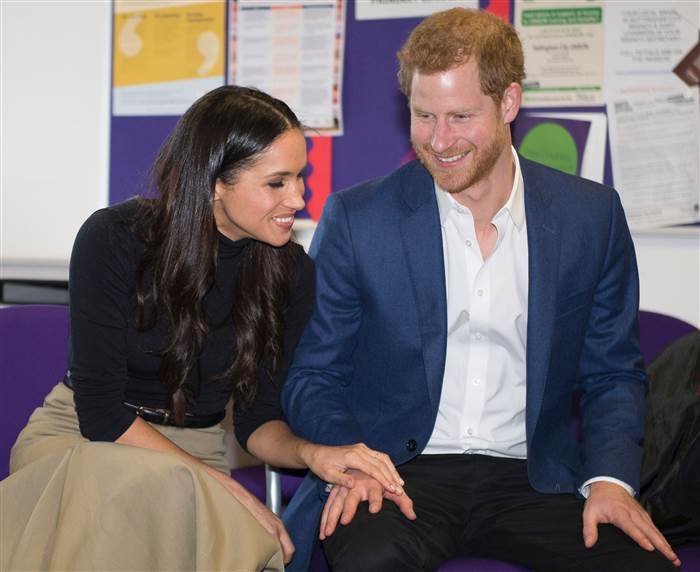 Source
After being aired about their relationship the couple started to give more public appearances together. And with the increasing love, they decided to level up their relationship. So the royal fanatics announced the date of this royal merger. As a result, the couple finally announced their engagement on 27 November 2017

Source
Prince Harry and actor Meghan Markle choose each other for a lifetime and tied the knot on Saturday and kept the fans hooked at this adorable couple. No one could afford to miss this grand wedding so kept their eyes glued on TV showing their royal wedding.
Here Are Some Glimpses Of Their Wedding That Happened On Saturday-
Aaww…They look madly in love with each other!
Beautiful Bride..!!  Just Adorable Picture.
Wedding Vows Finally Knoted
Them for A Lifetime 🙂 🙂
Hope to See Them Hooked.Finally, The Dream Wedding Of A Love Story Meets Its Destination. From Gf-Bf to Being Husband Wife This STory Unfolded a Tale Of Their Love Story. Now They Are Officially Taken…!! Congratulations
to the Royal Couple.!!